We have known Alin ever since she was a little girl. She is the daughter of our friends and veternarians,
Rafael
and
Mina
Aguilar. She was always a precocious child, and excelled in everything she did. One of those things was art, and as you can see from her portfolio below, she has a lot of talent. She studied marine biology at university, after which she took a year off and travelled to Norway. Nadine and I convinced her that she has a future in art. She has agreed to paint commissioned works and donate 20% of the proceeds to the
Amigos de los Animales
.
All of the images below are "thumbnails."
To see the full size pictures, just click on them
This is one of the first paintings Alin did for us. We had previously purchased a similar painting by the well know Mexican artist, Miguel Garcia Ceballos, and like it so much we ask Alin to do another one like it. <--
Here is a detail image of the ark on the left. One of the nice things about commissioning your own paintings is you can specify little details, like asking Alin to include our Gatita chihuahua dog in the ark. If you look closely, you'll find her under the neck of the antelope that is facing to the left. -->
ark so much, we had her do another one, this time with a blue background, to match our furniture. What is really neat about this painting is that it extends all the way to the frame. <--
Again, a detail image of the ark on the left. Here our Gatita dog is easily visible, sitting on top of the zebra. -->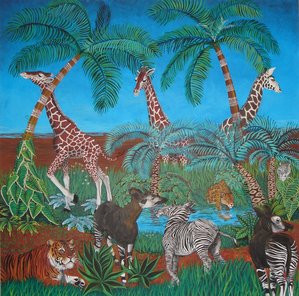 One year we came back from the USA, and Alin showed us this painting, which she had done that summer. She calls it The Oasis, and filled it with her most beloved species, including chapi, snow leopard, grevy's zebra, jaguar, Rothschild giraffe, and south asian tiger, all of which are endangered. <--
The detail on the tiger is really amazing. -->
Nadine really loves dogs and horses, we we asked Alin to make us a painting that matched her bedroom colors, and included all of her favorite animals. You can see
Belle
on the left, and
Venus
on the right, frolicking amoung the flowers. <--
You can make out our new chihuahua, Aphrodite, in the detail shot here. -->
Alin can also do more impressionistic art. This is a painting of a horserace. At the left of the canvas, you can see part of a horse coming right at you, with two other horses trailing behind.
If you've read this far, you might be interested in having Alin do a custom painting for you. The Oasis painting above is 75cm by 75cm (or about 36 inches). To give you an idea of the sizes involved. Alin charges $ 0.10 US (or a dime) per square centimeter. Thus The Oasis would cost $562.50 USD. This way you can calculate how much your painting would cost, based solely on the size of the finished work. It usually take her about a month to complete a piece. During that time, she will communicate with you via email to make sure you are happy with her work. To get started, send me (Henry) an email at nadine.and.henry@pobox.com and describe what you have in mind. We require a $200USD non-refundable deposit to get started. Once she finishes the pencil sketch, we want half of the remaining balance. The balance will be due after you receive the final artwork. The painting will be on canvas, and mailed to you rolled up in a sturdy cylindrical container. You'll have to take it to your framing shop to have it mounted onto a backing frame, and framed to your satisfaction. If you have any questions, feel free to ask.
Quote of the day:
Millions long for immortality who don't know what to do on a rainy Sunday afternoon.
Susan Ertz
Sitemap
Go up to Some Local Businesses you might Consider Go up to What Others Say Go up to General Information on Mazatlan Go up to Home Page of Nadine Loves Henry
Go back to Resomaz, Mazatlan's Imaging Center Continue with Chrissy's Coffeeshop and Hair Salon a Family Business