From now (November 2003) until early next year there is an animated Dinosaur exhibit at the Bosque de la Ciudad, (The City Park). The admission is 25 pesos, and the exhibit is open every day except Mondays from 10am until 4pm.
All of the images below are "thumbnails."
To see the full size pictures, just click on them
My sweet Nadine, surrounded by vicious man eating beasts! It's a good thing they aren't woman eating beasts!
This guy looks like he's up to something fishy.
This guy is looking for something in the trees!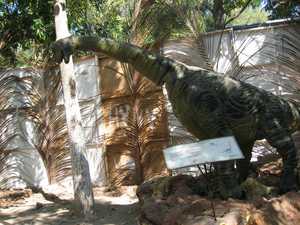 He Moves!! I guess he found what he wanted down below on the ground!
I think this one would make a nice companion for
Gatita.
The feared Tyrannosaurus. He doesn't look so tough.
A baby Tricerotops.
And a close up of the same.
Quote of the day:
If I have any beliefs about immortality, it is that certain dogs I have known will go to heaven, and very, very few persons.
James Thurber
Sitemap
Go up to Things to See Go up to General Information on Mazatlan Go up to Home Page of Nadine Loves Henry
Go back to The Lighthouse of Mazatlan Continue with Views from the top of the Best Western