In June of this year (2009) I spent some quality time with Geoff Simons and his business partner Juan Carlos Valdez. Together they operate Victoria Furniture a manufacturer of custom furniture. Geoff and Juan extended me the courtesy of their time, patience and vast knowledge of working with wood. I would now like to pass on some of that information and knowledge to my friends and gentle readers. You may not realize it but the woodwork and furniture can contribute from 20% to more than 30% of the final cost of your home.
To give you a sense of scale, I asked Geoff and Juan to stand at opposite ends of the workshop in this photo. You'll notice the lack of sawdust on the floor.
Common Problems
You may not realize this, but Mazatlan does not belong to the humans, but to the insects. Ants and termites are the true residents of Mazatlan, and will be here long after we humans have disappeared from the scene. That is why anyone who wants their woodwork to last demands cedar. While nothing is termite proof (they even munch on concrete) cedar at least is not their favorite meal. The problem is that once the wood has been stained, painted, or finished, it is very difficult, even for an expert, to tell exactly what kind of wood was used. That is why unscrupulous carpenters are always promising cedar and delivering pine. It gets worse. These days the finishing process is so advanced, that what looks like a beautiful piece of hand finished hardwood can turn out to be a piece of plastic with a thin layer of what is called a photographic finish, virtually indistinguishable from real wood. They look great, until you spill a coke on them and the paper thin veneer melts away. While these processes can be ornate and beautiful, they at same time are very difficult or impossible to repair when damaged. We have all seen this kind of damage, that broken filigree corner on the dresser or the peeling or melted vinyl veneer on the coffee table.
Another common trick is to promise cedar and deliver cedar, but not the kind of cedar you thought you were going to get. You see, what you really want is cured and dried cedar, which runs about $4.20 US per board foot. What the carpenter does instead is goes down to the lumber yard and buys a cedar log, for about $1.50 US per board foot. He then cuts the log into pieces and proceed to make your doors, chairs etc. Upon delivery, they look great, and truly are real cedar, but about a year later you come home to find a huge crack running all the way down the middle of your front door. Why? Because the cedar was dry when the carpenter built the door, and over the course of year it has shrunk and developed a huge crack. Do you have any recourse? Not really, after all the carpenter delivered cedar as promised.
Wood at Victoria Furniture
For dark stained woods we use cedar, period. If you desire a lighter stain color on your furniture marupa is a good choice. Huanacaxtle is another wood that produces a beautiful grain pattern but is not easy to work with. It will however, produce very nice counters or table tops. We use only the finest select kiln dried cedar available, no short cuts (no pun intended). By using only choice selections we alleviate the problem of wood shrinkage. As the wood cures this avoids the cracks and splits that appear later in life of that piece of furniture of which you were once so proud.
Lessons in wood
All of the images below are "thumbnails."
To see the full size pictures, just click on them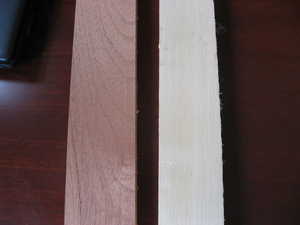 The two woods you pictured on the left are cedar and marupa. Cedar being the most commonly used wood in good furniture construction. Huanacaxtle is another wood that produces a beautiful grain pattern but is not easy to work with, but will produce very nice counters or table tops. Wood is usually priced by the board foot. This measure is the equivalent of 1 inch by 12 inches by 12 inches. So a piece of wood measuring 1 inch by 3 inches by 8 inches would equal two (2) board feet. Current pricing for #1 grade kiln dried cedar is about $4.50 USD per board foot. Marupa costs about $2.50 USD per board foot.
Plywood and Laminates
| | | |
| --- | --- | --- |
| The three different thickness of plywood | Plywood is the material used by most cabinet shops as the basic material for building the insides of kitchen cabinets and closets. Plywood makes for a fast and strong construction with little or no waste. Plywood is available in 4 foot by 8 foot sheets and is most commonly used in thicknesses of 1/4 in. 1/2 in. and 3/4 in. There are two types of plywood, one has multiple layers of wood glued and pressed together to form a single sheet. The other has a solid wood core with a thin veneer of wood on each side, the latter being preferred for quality cabinet work. The finished face of the plywood sheet can be anything from pine to exotic woods like walnut or rosewood and would be priced accordingly. A solid core plywood for basic cabinet work would run about $48 USD while a cedar faced sheet can run around $70 USD. | A cross section of cedar faced plywood |
So how do you protect yourself?
I asked Geoff what can a consumer do to insure they are going to receive a finished product the way they want it. The answer is surprisingly simple; it all comes down to trust and openness. While discussing your plans with your carpenter ask to see some of his finished work (do not just settle for photos). Ask for references from previous clients and ask them if they were pleased with the service (was the finished work delivered on time and to their specifications). It is always a good idea to visit your carpenter's workshop, see if it is clean, orderly and well maintained. Work habits are a good indicator of the work produced. Geoff and Juan encourage their clients to visit Victoria Furniture anytime they wish during all phases of the furniture construction. This not only builds a better working relationship but the client can see firsthand their furniture being built, from the selection of wood to the finished product and all details in between. You are going to be spending many thousands of dollars on the woodwork if you are building a reasonable size home. Just imagine all the doors, kitchen cabinets, closets, bookshelves, entertainment centers and so on. Get to know your carpenter, his work and his reputation.
Why you should consider Victoria Furniture
The first thing Geoff does when he undertakes a new project is to make an appointment to visit you in your home to discuss your requirement. An open discussion follows with suggestions to aid with your decision making process. Next he produces a rough sketch of the piece(s) you want, which will then become a detailed drawing of the finished product (the drawing on the left is an example of a finished plan). Geoff will present this finished plan for your review at which time any detail changes can be made. Once the plans have been approved Geoff will provide a detailed quotation and plan a work schedule for your project. Geoff and Juan strive to have your project completed on or before the agreed completion date and guarantee their work for a period of one year. Geoff says, "At Victoria Furniture we endeavor to provide our customers with a commitment to meet and exceed their expectations." Geoff would be pleased to show you work he and his craftsmen have completed in homes throughout Mazatlan. Oh . . . and there is no manana in Geoff's vocabulary, he always provides the courtesy of up to the minute scheduling.
Some background about Geoff
Geoff started his first business in England over forty years ago working on the restoration of antique cars. Most of those period cars were constructed in manner that is called coach built which is to say the body frame was made of wood and then covered with metal panels. More often than not the frame parts had decayed beyond use and needed to be replaced at a tremendous expense. Geoff decided it was time for him to learn about working with wood. Through trial and error Geoff removed the damaged parts and meticulously built templates for replacement pieces. Gradually over time Geoff became proficient with his woodworking skills and was able to produce replacement parts in his workshop. Some years later Geoff, with wife Clare and baby daughter, immigrated to Canada and established himself as a furniture manufacture and an antique furniture restorer. For twenty five years with love of labor and an eye for detail Geoff built an enormous loyal and endearing clientele.
If want to contact Geoff, you can call him at work at 176-9944, at home at 916-6331 or on his cell at 044-669-941-0458 or send him an email at victoriafurniture_mx@yahoo.com You can also visit the Victoria Furniture website. Geoff's workshop is located at Lazaro Cardenas #1410a, in Colonia Francisco Villa.
Quote of the day:
He can compress the most words into the smallest idea of any man I ever met.
Abraham Lincoln
Sitemap
Go up to Some Local Businesses you might Consider Go up to What Others Say Go up to General Information on Mazatlan Go up to Home Page of Nadine Loves Henry
Go back to Chrissy's Coffeeshop and Hair Salon a Family Business