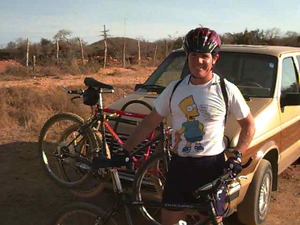 Robert has been living in Mazatlan almost forever, and loves to show people around. Robert was born in Harbor City California, but his mother was from Mazatlan. He was three when he returned to his now home city, and the family had a small business renting horses. Later they converted the horse ranch into a set of apartments which they still own today. Rates range from $7 to $25 dollars per day. I met him when he did mountain bike and snorkeling tours. These days he helps people (mostly Americans and Canadians) relocate to Mazatlan. He recently helped Nadine and I move from Mazatlan to Lake Chapala, and his assistance was greatly appreciated. You can visit his website or send him an email at movingtomexicoguy@yahoo.com You can also call him at the following numbers (as dialed from the USA or Canada) 011-52-669-176-0893, (213) 928-6214, (949) 596-4812. The first number is his direct Mexico phone number, the other two go through the internet. His Mexican cell phone is 669-127-9074.
Robert has kindly provided me with some very good information about the process of moving to Mexico and the services he provides. I will reproduce the info here.
Please read carefully, there is important information contained here that will make your move to Mexico much easier. movingtomexicoguy services - we can do door to door international moves, picking up entire household loads with US rental trucks from anywhere in the US and delivering with a 48 foot Mexican Semi anywhere in Mexico. I take care of all the moving process from start to end. If a problem occurs I am personally there to take care of it, on the spot. Taking your household (Menaje) back from Mexico to the US is available as well. We do personalized express international household moving from the USA. -Mexico- USA. at no extra charge. Our personalized moves give you options, with different ways to do Menajes, in order to save you money. I can also get your FM3 and Menaje de Casa in one day in Nogales, AZ, as long as you are present and have all the required original documentation. I can even translate and prepare the list for you. If you would like to save time, you can also get all the legal moving documents your self, at your own convenience. For full importations, I can also legally import new or used vehicles, appliances, furniture, etc.
Minimizing your stress
Moving is always stressful, and probably much worse when entering a foreign country. I have been doing international moving for some time now. I have certain ways or methods of doing things, depending on the clients needs that I am certain will work, because they have been proven and done many, many times before, even with unexpected variables. When I give a client options and advice, it is because I know that it will work. Getting worried or trying to figure out the different stages of a move is not only unnecessary and will not resolve anything, it will only stress you, make you loose sleep, and finally make you very tired. Mexico does things differently from the US. and Canada. It is very important that you do not try to impose your will, or lose control of your temper, if you do you will only encounter problems. Here the local customs, language barrier, and how each officer or Mexican Army soldier does his job, can vary from person to person. Remember that you are in their country and at their mercy. Things will not be under your terms or conditions, but instead, you must adapt to theirs. As long as you are calm, polite and respectful, everything will always work out. People in Mexico are friendly and helpful. I usually travel by plane from Mazatlan to the States, and back to Mazatlan. I do not travel by car with clients.
What you can and can not bring
A Menaje de Casa is what normally can be found in a couple's family home, such as furniture, household goods, decorations, and personal belongings proportional to the family size, all in normal amounts. Per Menaje some items can not be repeated such as a, refrigerator, freezer, stove, washer and dryer. No more than two televisions, Dvd's, stereos, home theaters or computers. New or used commercial or large power tools, used in professional shops such as carpentry or auto shops, can not be included in a Menaje, as well with repetitive items that you plan to sell in Mexico. Commercial power tools or other articles can be imported legally, but separately from the Semi trailer where your Menaje de Casa is in. In a Menaje you are not allowed to bring cars/trucks/vans, motorcycles, boats, or any other type of motorized vehicles. No guns, ammunition, or any type of fire arms. The same goes for bow and arrows, crossbows, spear guns, explosives, flammable or hazardous materials. No plants, soil, fruits, vegetables, live animals, meat, or poultry. If you are transporting $10,000.00US or more, it must be reported to Customs. Some Mexican Consulates will not allow in your list: food, soap, shampoo, cream rinse, or any type of cleaning supplies. Perfumes, medication and such should not be included in a Menaje. For those going to Baja, when arriving at Pichilinge, where the Ferry boat docks near La Paz in Baja California Sur, the Mexican Army will break the Federal numbered seal from the trailer, and inspect the Semi. If you have medication or perfumes, it could set off the Army drug detecting devices, making them inspect the trailer contents with more detail. They could unload the entire 48 foot trailer box in search for narcotics, causing possible damage of your goods, and time delays. A very well packed Menaje is important, it will better protect your goods. Depending if you are having your Menaje delivered South or North from La Paz, the Army may have a second check point, inspecting the Semi all over again. In Baja the Army is the law and they do things their way, so patience is a must. The accuracy of the list that you provide, and the safe packing of your Menaje is your own responsibility. If items are found by Mexican Customs, Army or any other check points, that have been omitted or are different than described in your list, the entire load could be seized. How much can you bring? Often people feel that they must sell or get rid off much of their belongings, in order to fit them in one 26 foot rental. We use 48 foot enclosed trailers, so we can almost fit two 26 foot trucks, if well packed. This will not increase the price on the Semi, and no extra charge to you for weight or odd size items.
The Mexican Consulate
Each Mexican Consulate has it's own unique way of doing things; documentation you will need, how it is presented, and the time required to complete it. To avoid several trips to the Mexican Consulate, comply with everything that they require on the first trip. Many open from Monday to Friday, from 8:00a.m. to 2:00p.m. and will be closed on weekends and certain holly days. Mexican Consulates can be helpful and great to work with, some are too big and busy, others do not have the necessary knowledge or experience, taking longer to process documentation, and can only help those who live within their city or county. The Nogales, AZ Mexican Consulate are knowledgeable and have experience. They work quickly and can process the FM3 Rentista, Menaje de Casa, and Mexican passports in one day. They can also help US. or Canadian citizens, even if they are not residents from the Nogales area. When paying for your documentation you will be asked for exact change, $100US bills are not accepted.
Menajes de Casa are once in a lifetime official permits, that the Mexican government gives to retired non working people from the USA. and Canada that have the FM3 Rentista visa so they can legally and without Customs import duties, move their house contents into Mexico and retire there. They can be in only one persons name. To the Mexican government, Menajes are considered a temporary importation, that is why the promise to bring back the contents to your country, if you decide to return permanently. Consulates can also give FM3's and approved Menajes to persons, when they represent a US or Canadian companies in Mexico, that will be living, but will not receive a salary in Mexico. Menajes are good for 30 days from the approved issued date.
Documents Required
In may consulates, In order to be approved for a FM3 Rentista visa, you must be of retirement age. You can also be retired at an earlier age, but must
not
be working any more, don't say that you still work even as joke, they are very serious about that. An original letter from your previous employer is necessary, stating that you no longer work, also that you are receiving the monthly amount of at least $1000.00US. for your self, and $500.00 US. for each additional dependent of yours, that will be living with you, and requires an FM3. If your intent is to work in Mexico, you or your Mexican company sponsor must apply in Mexico for a different kind of FM3. One that allows you to work there, but the Menaje de Casa will no longer apply. This working FM3 will have certain restrictions, and can be renewed every year. The Mexican sponsor should pay for your working FM3 and give you an excellent full medical insurance from I.M.S.S. To obtain an FM3 Rentista, certain procedures and documents are standard in most Mexican Consulates:
the FM3 Rentista forms
a valid US. or Canadian passport with at least one year left before it expires,
birth certificate
latest 6 months bank statements supplied by the bank and not downloaded from the internet
any stocks, bonds, properties, Social Security checks, etc.
a letter of no criminal record by your local police
two color 3.5cm x 4.5cm pictures, no black and whites
Menaje de Casa
To request the Menaje de Casa you will also need 5 original and complete sets of your item list in Spanish. Pictures: For the FM3, do not use US passport pictures or 2x2 inches. The Nogales, AZ Consulate will not accept photos when something covers your face, such as hair, glasses or hats. All documents presented must be current, valid, and originals, you will also need 2 copies of each. If you do not have all the original documentation requested by the Mexican Consulate or Customs, I will not be able to help you. Having originals at hand is a must. The time needed to obtain these documents will depend on the Consulate. Whether you fly, drive or walk into Mexico, and if presented to them, your FM3 will be open by Immigration, you then have up to 30 days, to report your self to the nearest oficina de Inmigracion near your new home in Mexico, otherwise you will have to pay an increasing fine. The FM3 Rentista needs to be renewed every year, starting the process a month before it expires at that same local immigration office is a good idea. Note: once your first FM3 has been issued, you only have 6 months to bring a Menaje into Mexico, after that time you have lost your opportunity, and will not be able to ever again bring a Menaje under your name. Benefits of an FM3: if you have brought a vehicle into Mexico, that vehicle can legally stay in the country, for as long as your FM3 stays current. You can own property, Mexican vehicles, and have government medical insurance called Seguro Social voluntario or I.M.S.S. Moving paperwork cost: FM3 Rentista comes in 5 year booklet with visa, is about $136US. Menaje de Casa is $127US for the one original, and 4 copies stamped and approved by the Consulate.
With an FM2, you can not get a Menaje, since you have changed your immigration status from visitante rentista or no inmigrado to inmigrado in Mexico.
Mexican citizens
Mexican citizens that lived in the US can also get a Menaje de Casa and bring their belongings into Mexico. It can be given as single or head of family, and only one per family. They must make the request in person, at the nearest Mexican Consulate from where they live. In order to fill out the solicitud de visado de Menaje de Casa, they will need several of the following: Mexican birth certificate, Mexican passport with at least one year before expiration, US visa, tarjeta de residencia permanente, cartilla militar, credencial de elector, proof of living in the USA. for at least two years, such as: letters and payment stubs from work, income tax payments, house payments or apartment rental receipts, phone, water, cable, electricity receipts in their name. All originals, and up to 5 copies of each document, depending of the Consulate. If a student, they need proof of living in the United States for at least one year. Will need the school records or scholarships. The complete list must be in Spanish, is similar as described for people using the FM3 Rentista, but without the promise to return the contents of the list to the US or Canada. Besides the furniture and personal belongings, they are allowed to also bring basic scientific instruments, tools, or things required to perform their trade or profession. Once the family has enter Mexico, they have up to six months to bring in the Menaje. The permit and lista de Menaje will come in one document of 6 pages or more, depending on the amount contained in the list. Cost is about $95US and can usually be obtained by the next business day. Menajes de Casa can not include boats, cars or motorized vehicles, nothing new, food, drinks, and only what is proportional to that family in particular. No complete laboratory instruments, for medical offices, or shop equipment. A Menaje de Casa, requires that all items in your list are 6 months or older.
Moving back to the USA
Moving back to the USA: for the Nogales border you will need a Customs Broker to process the following documents: copies of your original and current US passport (picture page) and your FM3 Rentista (picture page and latest Mexican Visa extension or prorroga). Original and copies of bank, water, electrical, phone, rental or property taxes, cable bills all in your name, showing your Mexican address.
You will also need the original Pedimento aduanal, Menaje de Casa list when you enter Mexico, and complete list of items that you will be bringing into the USA. in both Spanish and English. A notarized letter or a Carta Poder that allows me to transport your goods in Mexico and the United States, also stating that I will represent you in all moving matters. There is an English form that must be filled out for the US Customs, I take care of that before the crossing.
Do not bring illegal items, or narcotics into the States, or US Customs can penalize and/or seize your Menaje. It is best to contact US. Customs to find out what you can and can not bring into the USA. The safe packing of your goods, and the accuracy of your list and Semi contents is entirely your responsibility.
The lista de Menaje
Making the list or lista de Menaje, you must get the particulars from the Mex. Consulate that you will be dealing with, but the following may help: many download examples can be found over the internet, you will see how other people did their own list. There is no exact formula for all Consulates since each has their own way. Some may ask for the list to be in both languages, separate your electronics, do it by categories, or even put prices on each item. At most borders, Mexican Customs will honor the approved list from any Mex. Consulate, but not necessary all the contents. Mex. Consulates tend to approve most anything, but Customs have Federal laws that they must obey. They are two official and separate government departments, and do not necessarily have to agree entirely with each other. Word format works well, translate the all typed list into Spanish, write the date and location, politely request your lista de Menaje to the Consulate, giving your name as it appears in your passport, use both addresses where you live and where you will be living in Mexico. List your items starting from #1, #2, #3 and so on, in sequence, do not jump numbers, do not leave spaces in between numbers, or group them in categories. Simply write them from a lower to a higher number, in order. The list and your items must correspond with each other. With each number, describe in your list the contents of boxes, plastic containers, bags, furniture, and personal belongings.
You can mix items in one same box or container, and use your own pillows, blankets or clothing to protect small electronics, or fragile items. It is not necessary to number each item inside a box, just number the box, and describe the entire box contents on your Menaje list.
Marking boxes and other items: you can mark boxes, containers, bags and loose items with a thick marker. Numbering on several sides is best, so the item can be found more easily. With furniture or certain fragile items, you can also use a tag with the large item number, clearly visible, placed over the protective packing. Certain boxes that contain clothing, arts and crafts, X-mas or Halloween decorations do not need a full description. Electronics are what ever plugs into a wall, such as personal or household items, and small power tools. You must write the article's name, brand, size, model and serial numbers. On televisions include if it is regular, LCD or Plasma. With refrigerators also include their cubic size.
Some Consulates will ask for you to give all specifics but only for the mayor electric appliances. When you have bikes, write a brief description such as: brand, color, adult or child, and wheel size. For furniture such as chairs, tables, dressers, write the color, if they are made of wood, metal or some other material. On sets such as dining room table, the table and all chairs can share the same number. Same goes on beds, the mattress, box spring, headboard and such, all belong to the same set, all parts can share the same list number. It is best to describe well your Menaje, this helps avoid trouble.
Everything that you list and bring into Mexico must be 6 months or older. At the bottom of the last item, put in a line that crosses the page, so no other item can be added. Once a list has been approved, no other item can legally be added to either the list or truck. Write that you understand that this Menaje is temporary, and promise to return the contents of this complete list to your country in the case that you return there to live, then sign all 5 sets. After they approve and seal the Menaje list, they will keep one, and give you 4 sets back. Remember that each Mex. Consulate may have their own way of doing things.
Packing
Proper packing of your belongings is extremely important, especially for international moving. Do not crate your things or have them in sealed containers (as they come from Canada), since they must be available for possible inspection by Mexican Customs or Army. Make sure that what ever material you decide to use for protection, is fasten, secured and attached with each item. I do not pack, supply blankets or any other type of protection for your Menaje. I very carefully only load, unload and legally transport goods from USA - Mexico - USA. In Mexico certain roads, after raining season, will not be as smooth as you may be used to. There are lots of topes, road vibrators, and potholes in some areas, that is why the packing job is so important. The safe and proper packing of your belongings is entirely your responsibility.
Rental trucks, can be necessary to bring your household belongings from any where in the USA to the Nogales, AZ border. UHaul, Penske, or Budget are commonly used, in several sizes, but their largest is a 26 foot Penkes. Budget has full size boxes and gives you more space compared to the 26 foot UHaul, that is a bit smaller due to their attic over the cabin. When renting those trucks insist in getting the ones that run on regular gasoline instead of diesel. On recent models, they will not only save you money on the cost of fuel, but will also do better when passing other vehicles or going over hills. Often trucks will have governors on the gas pedal, hopefully you get one that can travel 60 miles per hour, or more. Renting moving blankets is unnecessary, since you have already properly packed your goods. Those rental blankets are not for sale. Two near full 26 foot rental trucks could fit into a 48 foot trailer, if its well packed. There is several UHauls drop off places in Nogales, AZ. For Penske or Budget, the best truck return place is Tucson, not Sierra Vista. Rental trucks such as UHaul, Penske, Budget and others can not cross into Mexico. They are unloaded on the US side and loaded into a Mexican Semi, that will deliver in Mexico.
Travelling
From your US. home to the Nogales, AZ border, the rental truck can be driven by you or I can do it for you. If I drive it, simply have it all loaded and ready, pay my daily fee of $200US, and all my expenses such as flight, hotel and food. You also need to pay the trucks insurance, road tolls if any, and fuel.
Most of the Mexican Semi trucks that we use, have air suspension for a smoother ride and protection of your household goods. Mexican truckers with the 48 foot Semis, can only legally enter US border towns, they are not allowed any further.
Insurance
Insurance for your goods can arranged by several Mexican insurance agents, and purchased from anywhere in Mexico. The moving insurance is called en transito (in transit.) Information can be found over the internet, many agents are bilingual, and the policy is not expensive to buy. There will be certain restrictions, so please ask the insurance agent to explain the terms and conditions of the policy. Storage facilities: There is two in Nogales, AZ One on Grand Ave. that has regular office hours and gates it when closed, and another on Mariposa Rd. that can be entered 24 hours with a digital code.
Moving with a Van
If you have a very small amount of household items that you wish to bring into Mexico or the USA, getting a Menaje de Casa or a Customs broker will not be necessary. Simply list and write a dollar value of your items new (show receipts) or used all in both Spanish and English. I can transport your personal belongings to either country as long as they can all fit in one 14 passenger rented van and you are not bringing anything illegal. The van is rented and returned in Mazatlan, Sinaloa The charges are: van rental (with roof racks and seats taken out) full insurance for both countries, gas, tolls, food, hotel, Customs duties for importing your things, and $200US per day for my services. Depending on how accessible your things are for pick up and delivery, this custom trip takes a total of 3 to 4 days from Mazatlan, Sinaloa - Nogales, AZ - Mazatlan, Sinaloa
Sharing a load
More than one Menaje per Semi/trip is also possible. If you have a partial load, say a one or two bedroom amount, and do not need/want an entire Semi for your self, and you would like to save money, you can post on mazinfo at Yahoo groups, whatsupmaz, or any other forum from other Mexican cities, your desire to share a Semi and cost of it with someone else interested in moving to Mexico. It will be more economical by sharing the Semi and my travel expenses with one or two other persons, as long as the combined load can all fit safely in one 48 foot trailer. The arrangements, required load space for each, and monetary amount agreed is between you and the other parties.
Each person bringing a Menaje, will need their own approved original documents in their name such as FM3 Rentista, Lista de Menaje, US or Canadian passport, all with two set's of copies. Each will pay for their own moving documents, Customs broker, crossing fees, loading and unloading. Each person will pay my $200US daily rate, that begins on the day that I arrive in the USA until the day that we finish unloading your things into your new place in Mexico. It is important that you and the other parties have all their moving original documentation ready and in order on the agreed time and date. Everything that is being moved must be there in time, available and in one same location. No one should bring illegal items, or things that do not belong in a Menaje, because it will cause problems for everyone else. If someone is missing documents, or do not have their belongings ready for loading the Semi trailer, it will not only delay everybody's move, but also increase the moving cost.
Customs Brokers
Customs Brokers are required when:
You have an FM3/Menaje de Casa and want to cross the border with your house contents and live in Mexico.
For Mexican citizens, families or students returning to Mexico with their goods.
When you are returning to live in the United States or Canada and bringing back the Menaje.
Want to full import a vehicle, or have larger amounts of new or used: furniture, power tools, electronics, appliances.
Ways to save money
Make your moving deposit one month prior to your moving date, list and pack very well your belongings on your own, choose the rental truck size that you will need, compare prices, then rent and load your own moving truck. If you need an extra truck or to pull a trailer do it at the same rental place, so you will get a discount, drive the rental truck or trucks to the Nogales border. Depending on convenience and economy, you can also use a US mover to load and deliver at the border. Be ready with all the necessary original legal documents and on time when transferring your Menaje into the Mexican Semi trailer. If you wish, you may share the 48 foot Semi truck with some one else, be present, ready, have possession, with all required permits and full access of your new place in Mexico. Get your own loaders in Mexico, and do your own unpacking and furniture assembly.
Other guys
Most international moving companies give an impersonal service, may or may not have all international information at hand, or the ability to answer your questions on the spot. They will tell you, that you must use the Laredo, Texas border for crossing, taking them 3 and up to 8 weeks to deliver. They will then use a narrow road South with a single lane for each direction, driving thru Carretera 40 Durango and Devils back (Espinazo del Diablo) high up the mountains, with lots of tight curves. Most movers will also charge you more for odd shape items, or by weight. Others are concern on how many cubic feet of goods you have, since they are limited in space by using from 20 foot to 26 foot moving trucks. They are not able to handle entire households or complete Menajes. Are you able to find positive moving testimonials that checked out about their company? Consider the following: you may need to sacrifice your belongings by having to get rid of some, due to the limited moving truck space. Paying full price for only half the load capacity. When you are quoted they will charge you another 17% to 27% or more for importation fees on any new item that you have. In order to get your FM3 and Menaje de Casa at a Mexican Consulate, if required the mover will not be there in person, to assist and help you. They can not guarantee delivery on a specific date, at best it is only tentative, since their delivery date is not binding. Outside the quote, you may also have other hidden charges or extra fees.
What I do
How does movingtomexicoguy do Menajes? We only use the Nogales, AZ border. It's by far the best one for Menajes de Casa in terms of ease and time required. Unlike the regular border, the Nogales, Sonora truck Commercial border, recinto/modulo fiscal or 14K, is usually open Monday thru Friday from 8:00a.m. to 8:00p.m., Saturday from 8:00a.m. to 2:00p.m., closed on Sundays and certain holidays. The wider road South does not have many curves, it is more of a straight shot. About 722 Miles from Nogales to Mazatlan on the Cuota 15 road, a double lane on each direction, a much safer drive. I do not sit behind a desk, sending others to do your move, then passing on the job from one person to another. I travel to wherever your belongings are, I am present and physically available in both countries with your things. I can be reached by cell phone 24 hours. during the entire moving process. You deal with the same person that knows whats is going on from start to end. I spend so much time at the border, that I keep current with all crossing matters, this way we avoid problems, that could increase delays and cost.
We deliver quickly, for example: if I arrive in Nogales, AZ on a Monday evening, I would have the prepared Menaje list in Spanish if needed. Tuesday I take care of the paperwork, if you do not have them, I go to the Consulate with you and get them approved, I do the unloading from the US rental truck or trucks and load the Mexican Semi, deal with the Customs broker then cross the border with your Menaje. By Wednesday your things arrive safely in Mazatlan, and all unloaded into your new place. Please look for testimonials on movingtomexicoguy over the internet. We do not punish you and charge you more for big or odd shaped items or load weight. With a 48 foot trailer, we can transport up to 10 tons of weight. It does not matter how much or little you have, the Semi will be the same, reasonable price, and you will have lots of available room. There is no doubt on the delivery date, you will know ahead of time, and before the move even takes place. I charge per job one price, no hidden fees on small print, or other charges.
Crossing the border
Do you need to be present at the border for the crossing? No. Once you have sent the moving deposit, I have possession of your goods, have 2 copies of your passport and FM3, as well as 4 Original sets of your approved Menaje de Casa, I can take care of the entire moving process. I only see you where ever we meet in the US to get or receive what is needed for the move, and again when I deliver your belongings at your new Mexican home. If all documents are ready and the Semi is loaded, Mexican Customs inspection will usually take from 1 hour to 5 hours to clear both check points, and be free to travel with the sealed 48 foot box and final Federal numbered lock. The information on both, the inspected Customs Pedimento and the final Federal aluminum lock must match and be proof of the trailers integrity. In the mainland most authorities will respect this Customs lock, for free travel until it reaches its final destination, and the client can verify the serial number/letters and witnesses the breaking of the lock.
The Customs Pedimento is most important document in the Menaje. It contains your information, showing the times that Customs inspected your things and proves that the Menaje enter the country legally. If you do not have it, your things can be considered contraband.
Express delivery time
If I have possession of your goods at the Nogales, AZ border and you either give me the necessary moving documents, or you are present and I help you get them at the Nogales Consulate, I can have your things in Mazatlan in 2 days, Puerto Vallarta or Guadalajara in 3 days. Once the Semi has cleared the second Customs check point, it will take about 24 hours to arrive in Mazatlan, 34 hours to Puerto Vallarta, and 38 hours to Guadalajara. Some times it will show up even sooner. What does a moving quote include? I send you the moving information, terms, conditions, with tips and advice that you will require, answer all your international moving questions by phone or in person, confirm a delivery date, prepare the list in Spanish and help you get your FM3 Rentista and Menaje de Casa at the Mexican Consulate in Nogales, AZ if required. Loaders in Nogales, AZ, unload your US rental truck or trucks, the loading and use of one 48 foot Semi trailer with driver, fuel and road tolls included, a Customs Broker, crossing fees, and truck delivery to your new place in Mexico. If the Semi for some reason can not be parked by your place, it will be as close as possible. Quotes are from Nogales, Arizona to anywhere in Mexico, I charge per job one price, and there is no other charges or hidden fees. Remember that if you want, I can also pick up your things from your US home and drive them to the border, as described above.
The fine print
A quote does not include:
The use of a smaller truck in Mexico if needed
Taking as many loaded trips as necessary from the parked Semi, to your place. Most charge per trip.
Unloading in Mexico - I must first see the location, either I unload, I can get you loaders and you pay them, or you get your own.
Quotes are good for 60 days. Do not assume, it is always best to ask questions, some will save you money, time, and most importantly avoid misunderstandings. International moves are very different from domestic ones. Please do not set the moving date until after you have taken possession of your new place in Mexico, and have full access to enter it. Once a moving date has been set, I will have most everything prearranged and everyone necessary for your move all set up in advance. If you later change this date, it will throw off everything, causing more expenses such as reservation cancellations, flights, hotel, car rental, food, movers, lost time compensation to driver and others. These new expenses you must pay. Often delays can occur when your goods have not arrived at the time and date promised, or when you are missing a required original document. Delays also affect my commitment to other clients. Please do not change the time or date, and be completely prepared on your end. We deliver very quickly, and must be paid and unload the Semi that same day of arrival. The driver and my self need to be ready for the next job.
For delivery, Semis require that roads leading to your new home are accessible to them. Local city laws may not allow them to enter or you could require a traffic permit, narrow streets, not enough space to turn, park or to maneuver, certain dirt rural or in bad shape roads, rocks, broken bridges, over hanging trees or cables will not allow a Semi to park near your place. Often, the use of a smaller moving truck may be necessary, to deliver in several trips from where the Semi is parked to your home, and usually they charge per trip. The use of this smaller trucks will increase your unloading cost, due to the extra work and time involved. We must have full access to your belongings, a responsible person must be present on location at the agreed date and time, when picking up or delivering your Menaje. Once we both agree on a moving date and time, you must be present at our prearranged meeting place, have your belongings available and all properly packed, be ready and have all your original documents that are necessary for moving to Mexico. When parking the Semi, you may need permission from your neighbors to block their driveways, or a permit ready from your complex to allow entrance of the Semi. Do not bring illegal items into Mexico, things that do not belong or are not permitted in a Menaje de Casa. How the truck and things get loaded, who I choose as workers, and the number of persons that load or unload your goods is my decision. Once you have sent me your complete list, and I have quoted you, do not add any thing else to that list or to the Semi. I am not responsible for what could be found by Customs or the Army with what is inside your boxes, what electronics you have and other goods contained in the Semi, nor for damage of your belongings. Remember that you are responsible for the safe and proper packing of your entire Menaje. Note: I do not unload at Condos, tall buildings or Complexes higher than a second floor. I can arrange for loaders and a smaller truck if necessary to do the job at no extra charge to you. But you would be responsible for the access or permit to enter your place, permission to unload, possible damage to the location, payment for the small truck if needed, loaders and their previously agreed payment, you also need to supply drinking water for them. The unloading to more than two floors in no longer my duty or responsibly.
How does movingtomexicoguy charge?
Per job: One person exclusive Menaje on a 48 foot Semi trailer.
Per day, plus expenses:
When I drive your goods from your US home or storage facility to the border on a US rental moving truck.
When you share a 48' Semi with other clients.
When I transport your goods across the USA. or Mexico border with a 14 passenger Mexican rental van.
Payment
In order to save you money, the first amount needs to be deposited into a US account a month prior to the moving date. Once we have set the moving date, and you have read and agreed with the moving terms and conditions, I will send you the bank deposit information. When the deposit has been made, your desired date and moving reservation will be confirmed. If you wait till near the moving date, the quote will increase. Flights increase closer to the departure date, as well as other reservations and the last minute moving arrangements. The final amount is paid in US cash when the Semi enters the town or city that you will be moving to, and before we unload. Please be prepared with the final payment, prior to our delivery. We do not accept merchandise, trades, cheques, money orders, credit cards, or any other form of payment, only US cash. Due to the way that we expedite Menajes, as soon as we receive payment, I will pay everyone involved in your move on the spot.
Pets
Pets if you are driving South and using the Nogales border, you will not be required to have a dog/cat vaccination record or health certificate by the Mexican authorities. Often Mexican hotels or motels will not accept pets. Check the internet for pet friendly accommodations. Here is a link to get you started. Most No Tell or Adult motels, will also allow pets, and are usually located before you enter, or exit a town or city. They have private and secure parking. In Mexico and for importation purposes, they only consider as pets, dogs and cats. Here is a site that will help, and to learn the amounts, cost and other links to Mexican Customs. For bringing birds into Mexico, check here In Mazatlan, Sin., you can also try: SAGARPA Laboratorios: MVZ Oscar Osuna phone# 917-0337. Their Regional offices: Delegacion in Culiacan, Sin. with: MVZ Luis Fernando Figueroa Leyva phone# 01 (667) 760-1436.
Your car
When driving your car into Mexico, if possible exchange money prior to crossing the border, and have it at hand. The best currency to pay with when traveling in Mexico is Pesos. Driving or not, the single owner of the vehicle, trailer, bikes and/or jet skis must be present to apply for the Customs permit, there with the vehicle/trailer/bikes/jet skis when traveling in Mexico, or while being towed on the main roads from one city to another. In order to get the permit, you will need: a passport with at least one year left, FMT visa or FM3, valid driver license and credit card. For your vehicle: title, registration, US or Canadian proof of insurance, valid license plates, and tags all up to date. If you are leasing or are still making car payments, a written permit from the lease or finance company allowing you to bring that vehicle into Mexico will be necessary. When pulling a trailer with motorcycles or jet ski's, you will also need: title, registration, proof of insurance from where they came from, with tags, and license plates for bikes and trailer, everything current. Every personal or vehicle document must be in your name, original, current, and with a set of copies.
Only one persons name will show on the temporary importation permit, and only one vehicle per person is allowed. Having a FMT or FM3 determines how long legally can a vehicle stay in Mexico. Once in Mexico, legally only the owner of the vehicle, wife or immediate family can drive it. Have in the vehicle, for the spouse a marriage certificate, or for the father/daughter a birth certificate with ID as proof should work. To avoid serious problems with Aduana, do not loan your vehicle while in Mexico to any one else, Mexican, US or Canadian citizens, unless you are inside the vehicle with them.
Mexican insurance is not required, but a good idea to have. It can be bought for short periods or by the year, covering certain states in Mexico, or the entire country.
Gas and Tolls
Paying in Pesos at gas (Pemex) stations is best, often their US. exchange rates are not good. There is 3 types of fuel, and all pumps are green: Diesel (black label) is the most economical fuel, Magna (green label with 87 octanos) regular unleaded, and Premium (red label with 92 octanos) the best unleaded gasoline. Pemex is government owned, prices are the similar all over the country, more in Baja, but near the border it will cost a little less, due to taxes. Having Mexican coins in your car or pocket is good, so its at hand when you tip a gas attendant for checking your car tire pressure or cleaning the windshield. Some gas stations will ask for coins to use their bathrooms.
At toll booths, or caminos de Cuota, they will charge for your vehicle, for your trailer and for each additional axle. When you pay a quota, it gives you auto and personal insurance from one quota booth to the next, as long as you respect the speed limit and traffic laws. Besides more Highway police or Federales de camino on this roads, you may see well marked free road emergency phones. Not all Cuota roads will accept US dollars, but on the ones that do, will normally give a very good exchange rate. In certain Cuota roads, such as from the South side Mazatlan to Tepic, you will not find gas stations. Cuota roads are by far, the best way to go. At the Cuota booths, you will find the cleanest restrooms. Others can be found in certain of newer Pemex gas stations. Have your own toilet paper, just in case.
Phones
If you call a Mexican cell from your US land line or cell it will quickly drain their cell credit. If you call a Mexican land line, it will not hurt their credit. When calling from the US to a Mexican land line, you need to dial: 011 52 area code and number. To call a Mexican cell, you need to add a 1, between the 52 and the area code. To call from a Mexican phone to the US or Canada you must dial 001 area code and number. Many US. cells that have chips that can be converted into a Mexican cell, the process is done quickly and economically. You can even have it programmed in English. To use them, you can buy prepaid cards or use a calling plan. Magicjack works great in Mexico if you have high speed internet, just get a cordless phone and you will be set.
There are different ways to do a Menaje de Casa depending on the client's requirements, with several possible answers to the same question, all depending on which way suits you best. We can accommodate to your needs. If you have questions, please give me a call.
Contacting me
Often I can not be reached by internet, because I travel a lot and internet is not always available. Depending on where I am, and the time of your call, I can always be reached at one of my phone numbers. Usually in the evenings if I am in Mazatlan, I can be reached between 6:00p.m. and 9:00p.m. Mazatlan local time (US Mountain time) at Mexican Land line: 011 52 669 176-0893 US. Internet phone: (213) 928-6214 Yahoo Messenger: movingtomexicoguy
It's a good idea to let me know the time that you will call, so I can make myself available to you. If you are in Mazatlan try 044-669-127-9074 (Mexican cell) on all day, or 176-0893 (Mexican land line) in the evenings. During a Menaje, and while I am in the US, I can be reached at: (520) 223-5179, until I cross into Mexico. Once in Mexico, on my Mexican cell 669 127-9074, both numbers will be on 24hrs.
Quote of the day:
A friend is someone who knows the song in your heart and can sing it back to you when you have forgotten the words.
Unknown
Sitemap
Go up to Things to Do Go up to General Information on Mazatlan Go up to Home Page of Nadine Loves Henry
Go back to When the Navy comes to Town Continue with The Ropes Course