We used to have a wonderful little mini-golf and paintball war business here in Mazatlán, but they went away in 2002. I'm keeping this page here for the memories.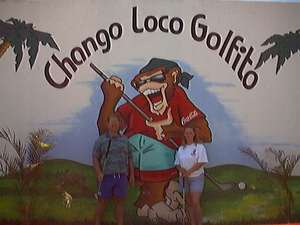 Pictured here are Brenda and Mark Seabolt, owners of the new (1999) Chongo Loco mini golf course in Mazatlán. They have combined the Pepsi monkey with Coca-Cola sponsership and a lot of hard work to bring a wonderful little mini golf course to the golden zone. They are located right across the street from the Holiday Inn hotel, and are open every day from 11am. They have a
coupon available here.
This is a great place for kids, and the cost of a round of golf is only about $3US per person. The low score in any group of 2 or more is entitled to play their next round for free. There is also a little snack shop here in case you get worn out carrying that putter around. I'm trying to talk them into putting in little carts so we don't have to walk so far from hole to hole. (Just kidding.)
Are you ready to rumble? Starting this year (2000) Mark and Brenda have added a paintball war arena to their family fun offerings. They have found the perfect venue, a delapidated old ranch building, that looks like it belongs in downtown Chechnya. For around 10 dollars per person, you too can become a weekend warrior. I haven't had so much fun since I played cowboys and Indians as a kid. They provide all of the equipment you need, including camouflage jackets, safety goggles, and of course arms and ammo. They are holding weekly
open warfare
rallys every Saturday at 3:00PM. Just show up and remember their motto:
Kill em all, let God sort it out.
You can also arrange to have your group use the facility and equipment by talking to Mark or Brenda.
A couple of words of caution. Those paintballs travel at a pretty good speed, so it is important to stay about 20 feet away from your enemies. Even at that range, they sting pretty good when they hit and will probably leave a bruise. It is best to wear sweat pants. We had some pretty small children in our group, and it turned out to be a little too intense for them after a while. I'm not sure if that was a good thing or a bad thing. They all arrived believing that war was a game and I think all of them went home with a new understanding that war is not a good thing. Nevertheless, we all had a great time, and there wasn't any blood, just paint.
Quote of the day:
Patriotism is the veneration of real estate above principles.
George Jean Nathan (1882-1950)
Sitemap
Go up to Stuff I didn't know where else to put Go up to General Information on Mazatlan Go up to Home Page of Nadine Loves Henry
Go back to Send us a Message Continue with Saying Thank You