All of the images below are "thumbnails."
To see the full size pictures, just click on them

This is a 14kt white gold sapphire and diamond bracelet. It is 7.25 inches long, with alternating rows of sapphires and diamonds. There are 96 oval shape natural blue sapphires measuring 5mm x 3mm x 1.8mm, weighing a total of 24.88 carats. There are also 96 round diamonds measuring 1.5mm x 1.5mm x .9mm, weighing a total of 1.5 carats. The total weight of the bracelet is 37.1 grams. The price of the is
$4000 USD
. It was appraised for $21,000 USD.
We purchased this bracelet at an auction, it was not designed by Nadine. It includes a lab report from American International Gemologists.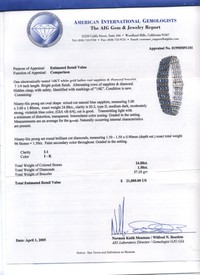 Quote of the day:
After finding no qualified candidates for the position of principal, the school board is extremely pleased to announce the appointment of David Steele to the post.
Philip Streifer, Superintendent of Schools, Barrington Rhode Island.
Sitemap
Go up to Nadine's Love Affair with Jewelry Go up to Home Page of Nadine Loves Henry
Go back to Calliope, the Muse of Epic Poetry Continue with Clio, the Muse of History