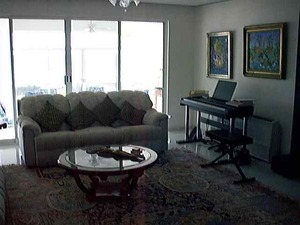 Here is part of the living room. We have an electric piano which Nadine uses to practice her singing. Behind me is a 32 inch TV that you can watch from either the sofa you see, or the love seat and easy chair just out of the picture to the left. The rug is a Persian carpet that depicts the story of Persepolis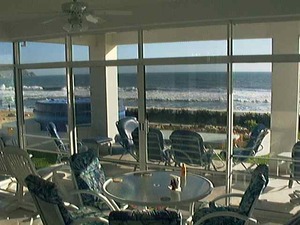 Here is the view from the sliding glass doors at the end of the living room. We have and indoor and an outdoor patio. The indoor patio is completely enclosed by glass, so you can use it in any weather. There are three tables with four chairs each in the indoor patio - perfect for parties. The outdoor patio has a large glass table with six chairs. Even with the door closed you can hear the sounds of the waves in the background.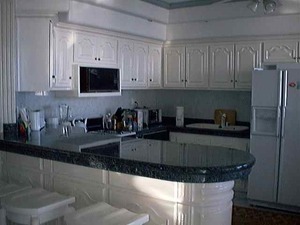 When we bought the house, we completely remodeled the kitchen. You are looking at about half of it. The bars are a pearl blue glossy granite. The kitchen is fully equipped, complete with a dishwasher and a microwave oven. In addition to the refrigerator here, there is also a freezer in the downstairs storage area. We have barstools around all the counters, and there is seating for about ten people.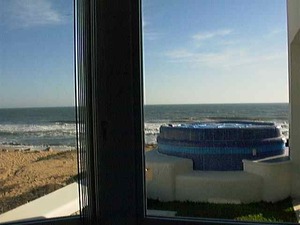 This is the view from the other bar in the kitchen, where Nadine and I often sit while we have our oatmeal for breakfast. I call it gruel, but at our age, you have to start eating what is good for you. That is our jacuzzi in the foreground. We often hop in after a long beach walk. Getting to the beach is very difficult, you just open your back door and walk about 5 steps. By the way, if you are worried about security, all of the windows have been covered with a high security plastic film. The manufacturer assures me it would be easier to break in through the concrete walls.
Quote of the day:
The doctor can bury his mistakes but an architect can only advise his client to plan vines
Frank Lloyd Wright (1869-1959)
Sitemap
Go up to Our House on the Beach Go up to Where we have lived Go up to All about our Family Go up to Home Page of Nadine Loves Henry
Continue with The Upstairs Cathouse