There is always something going on in Mazatlán. Some events are weekly, some monthly, some annually, and some just pop up every now and then. Check out this page to see if something special is going on during your next trip, or even plan your next trip to be able to attend one of these happenings.

The friendly folks at the Pacific Pearl have kindly agreed to help post last breaking announcements of upcoming events right here.
The historic, restored Angela Peralta Theater is located near the corner of Calles Carnaval and Constitucion in Old Mazatlán. Every fall there is a Fall Festival of cultural events, and here is this year's schedule. All events take place at the theater, unless otherwise specified.
The Fall festival happens every November in Mazatlán. As it draws near, the
Pacific Pearl
will usually print the schedule.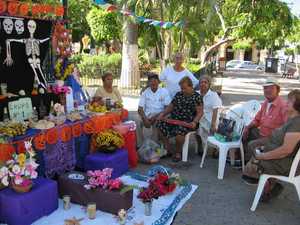 On November 1st and 2nd, Mexico celebrates the Day of the Dead. The first is for the remembrance of dead children, and the second is for everyone else. Many families will go to the cemetary where their loved ones are buried, and tend the gravesite, perhaps with a picnic. Some construct rather elaborate alters, with photos and momentos of those they wish to remember. This family was gathered at the Plaza Machado, which is generally the headquarters for this day of remembrance. Show up around 7:00pm and follow the band to visit the local alters. More photos of
other alters
are also available.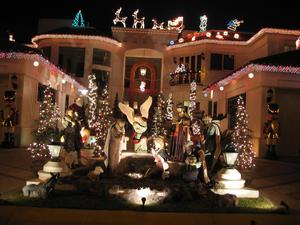 Mexicans really love Christmas time, and many go all out to see who can have the highest electric bill of the month. The house on the left is one of many that is vying for this honor. You can
find more here
where you can also find out more about the Annual Christmas Lights Tour, sponsored by
Friends of Mexico.
The date of the tour varies, but is generally in the second week of December. Many restaurants and hotels will host special dinners on Christmas and New Years. Here are some places you might call and check out, to see if they have what you are looking for.
| | | |
| --- | --- | --- |
| Casa Loma | 913-5398 | Christmas, New Years |
| El Paraje | 916-1301 | Christmas, New Years |
| Ernie Tomatos | 916-5426 | New Years |
| Fiesta Mexicana at Playa Mazatlán | 989-0555 | Christmas, New Years |
| Hacienda de la Flor at Royal Villas | 916-6161 | Christmas, New Years |
| La Casa Country | 916-5300 | Christmas, New Years |
| Mauricio's Balboa Towers | 913-7144 | Christmas, New Years |
| Mr. Ace | 914-4948 | Christmas, New Years |
| Papagayo at the Inn at Mazatlán | 913-5500 | Christmas, New Years |
| Prime Rib House | 913-5611 | Christmas, New Years |
| Terraza Playa at Playa Mazatlán | 989-0555 | Christmas, New Years |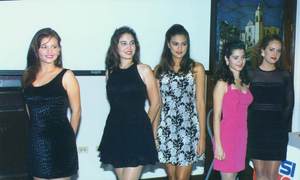 The Mazatlán carnival has been going since 1898, and is still in full swing these days. If you are a serious party animal, this is the time to come. Be sure to make your reservations well in advance, because you will find many of the hotels and flights are booked well in advance. The carnival in Mazatlán is supposedly the second largest in Latin America, behind the spectacle in Rio. The festivities get into high gear on the Friday before Ash Wednesday, and end on Ash Wednesday. They include parties and parades, complete with floats and a carnival queen. Mexicans take their beauty contests very seriously, and becoming carnival queen can be one of the most important events in a young woman's life. Each of the candidates must help defray the expenses of carnival by selling a fixed number of raffle tickets on a new car in order to qualify for the final judging. This will occur during a spectacular show at the city's historic Angela Peralta Theater. All over town there will be rallies as the candidates and their followers campaign for votes (computed by the number of raffle tickets sold). At times all the candidates will parade through Mazatlán as well as other towns of southern Sinaloa.
There is a
page
dedicated to the Carnival in Mazatlán. There is a full schedule, and it may or may not be translated into English when you get there.
Friends of Mexico
, Amigos de los Animales, Familia, Pro Mexico, Familia, Friends of the Aquarium, AA Meetings, Alanon Meetings, American Legion Post 11, The Vineyard, and Downtown Historical Project. More information about these organizations
is available here.

This event only comes along once a year and is
always sold out,
so if you want to attend make sure you get your tickets right away. It is organized by
Vivian Guzofsky,
who also puts on the Hands Across the Borders dinner and silent auction. (I don't know where she finds the time to also play golf almost every day.) Tickets are available at the golf shop of the El Cid clubhouse, and the event is usually held in early to mid February. What is it you ask? Well, every year Vivian goes around town and arranges for her group to tour six beautiful homes. The owners donate their house for a day, and those of us on the tour get to see wonderful examples of interesting architecture and interior design. If you're interested in what the tour was like in February 2000,
come along with us
as we walk you through the houses that were on display that year. The group travels around in busses donated for the occasion, and meets at the El Cid parking lot at 9:00am. Tickets cost about $25US and all proceeds are donated to the Pro Mexico organiztion.
On January 17, 2009
the Mazatlán Hospice (Somacupa) will be holding a golf tournament at the Estrella de Mar Golf Course. The entry fee is $95USD per person, and includes 18 holes of golf with cart, raffles, games of chance, and a barbeque. For more information or tickets please contact
Bob Gray
at 985-0889 or
Jo Ann Scott
at 913-2562.
Scott Borowiak
usually brings a group down to Mazatlán, often around New Years, for a week of fun and sun. Nadine and I attended several of this clinics when we first met back in 1990, in Acapulco, and had a great time. You can find out more about
Scott's upcoming events online.
Steve Vaughn
also brings down at least one or two groups each year, and uses the El Cid facilities. I've met Steve numerous times, but have never participated in one of his clinics. He also has
information available online.
see here
Also from December 7 - 13 is the Tournament of Champios of Sports Fishing at the Marina El Cid. Winners of fifty international fishing tournaments will be participating in a catch and release competition.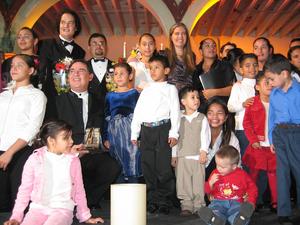 We had a special treat in 2005 when we bought tickets for the annual Angela Peralta concert benefitting the Mazatlán Orphanage. It was a truly magical evening. It took place at the orphanage, which is a restored 19th century residence with a huge courtyard. Pictured at the left is the Choral director, and outstanding pianist, and behind him are some of the soloists. The rest of the chorus has about fifty members. Their choices of music were wonderful, and included Maria and
Someday, from West Side Story,
What kind of things happen during spring break? Well, many of the big clubs here sell all you can drink bracelets for $100US, which permits the wearer to fill up and throw up for the entire week they are here. Some discos, such as the El Cid, host foam partiess, where they fill the whole disco with soap suds so that the boys can cop an anonymous feel from the girls, and the girls can pretend to be offended without confronting anyone. I suppose your reaction to this will range from oh boy! to oh my God! depending upon whether you are a student or a parent, but this is how it is.
Now this can either be a good or a bad thing, depending on your point of view. If you are part of the party crowd, this is the time to come. The testosterone level is so high that even our
Gatita dog
starts sniffing the air, and she's been spayed. I find myself tending to walk on the beach just a bit more often, purely as part of my physics research. I am trying to discover if there is a lower limit on the amount of material used in female bathing suits. So far I haven't discovered any, but I feel it is important to carry on my research.
On the other hand, if you come to Mazatlán to get a head start on life in the slow lane, you will find that the beaches, hotels and restaurants are crowded and noisy, and who knows, there might just be a tequila shooter party going on all night long next door.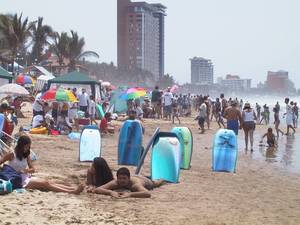 Semana Santa is the week preceeding and following
Easter Sunday.
The next Easter Sunday will occur on Sunday, April 12 2009. Everything I said about Spring Break above counts double for Easter week. It seems like all of Mexico descends on Mazatlán. This is the only week that all of the hotels have 100% occupancy, with many rooms holding entire families of 8 to 10 people. This is the time that many of the locals choose to travel elsewhere. Unless you're a real people person, we suggest you stay away from here around Easter time. The people will start flowing in on the Tuesday before Easter, and the crowds will thin out on the Monday following Easter. As you can see from the beach at the left, there isn't a lot of room
to relax and get away from it all.
Recently, after ten long, hard, difficult, years of wedded bliss, Nadine started complaining that I never take her anywhere anymore.
"What happened to those romantic get-aways and fancy restaurants?"
she said recently. That's why, when the Expo Canacintra came to town, which it does every year around May 1, I didn't hesitate, but rushed her down to the parking lot next to Sam's club for what I was sure would be an unforgettable experience. One of the most exciting booths at the expo was the bread and tortilla chip display, which caught Nadine's attention, but who are they calling a bimbo? You can find
more exciting pictures, including the corn oil queen, the doorknob display, the high power transformers, and the friendly ladies from social security here,
if your heart can stand it. And who says the romance is gone?
How to survive if you move to Mexico
Like it here? Think you might want to live here, now or when you retire? You're a good candidate for one of the Survival Seminars being offered throughout the winter season. They are designed to give newcomers a fair idea of the benefits and drawbacks of living in Mexico. Some of the information is aimed at foreigners who establish residence in Mazatlán, but most of it could apply to the setting up of a household in any part of Mexico. The orientation seminars have been prepared by foreigners who have a combined total of more than 30 years of experience as residents of this area. They are conducted by a volunteer who is a professional seminar leader. Such matters as the cost of living, health services, whether to rent or to buy a home, surmounting the language barrier, where to find reliable providers of services such as auto and home repairs are among the how-tos covered in the first of two seminars for foreigners. The second session deals with the cultural differences and is aimed at helping Anglos deal with the Latino mentality. Handouts are provided to seminar registrants. Each session is independent, and does not require previous attendance at the other. The seminars are set for 9:30 a.m. to 12:30 p.m. on selected Wednesday mornings from the end of October till March. The season's first how-to seminars are scheduled for
Oct. 25
and
Nov 8
, a cultural differences seminar for
Nov. 15
. Cost of each session is 150 pesos, 250 pesos for couples. The sessions will be conducted at various locations in the Golden Zone; reservations are required. To reserve a place for any of the upcoming seminars, call 011-52-669-913-2560 afternoons after Oct. 10, or send an email to:
lynnemh@terra.com.mx
. Proceeds from this project go 100% to the
Friends of Mexico, A.C.,
Foundation, which is geared toward assisting with the education of elementary school-age children from impoverished families. Education in Mexico is free, as are books, but all else must be provided by parents. This year
Friends of Mexico
, A.C. is buying uniforms, shoes and school supplies for the entire first grade class in a poor colonia of Mazatlán. The association also assists needy but talented children by paying their transportation to classes at the Municipal School of the Arts. Enrollment is by reservation only, and a minimum of five persons is required for any seminar to take place. Currently no classes are scheduled, but if enough people show interest, one can be created. To express your desire to attend, please contact
Jackie Peterson
at 913-2560.
Great Pacifico Marathon
will take place. There are three heats to suit any age or fitness level. The 10k, the half-marathon, and the full marathon. Actually none of those levels quite work for me, I am holding out for the once around the block level. There are fabulous prizes, including 100K USD for the runner that breaks the Mexican record, and 1M USD for anyone breaking the world record. The race begins and ends in front of the Faro Mazatlán hotel on Camarón Sábalo. Warning! The Malecon, the road that runs along the ocean from one end of Mazatlán to the other, will be closed to traffic, so plan for alternate routes. Registration is $14USD, and includes a number, t-shirt, medal, post-run package, and carb dinner. To register, please go to the
Pacific Pearl web site
.
Sitemap
Go up to General Information on Mazatlan Go up to Home Page of Nadine Loves Henry
Go back to Things to Do Continue with Things to See
Descend to Pro Mexico House Tour