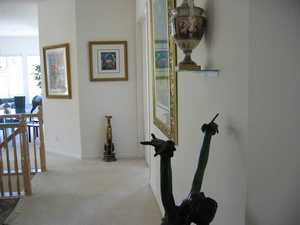 As you walk in the front door you are greeted by a ballerina who seems very happy you have arrived. Nadine and I like to go to art auctions and pick up various treasures along the way, such as pretty much everything you see in this photo. The big problem with live auctions is that you are afraid you are going to
lose
the auction, and simultaneously you are afraid you are going to
win
the auction.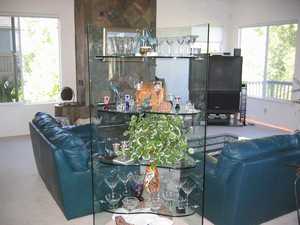 After you walk in a few steps you are confronted with our glass display case containing many of the various treasures we have bought or been given over the years.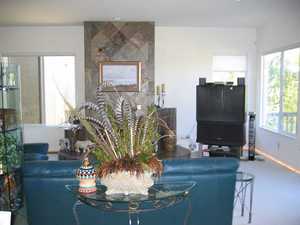 Stepping just beyond the display case, you see half the living room / dining room area. We often watch our netflix movies here on the big screen tv. We always compete for
belle's
attention while we are watching movies. She is a great snuggler!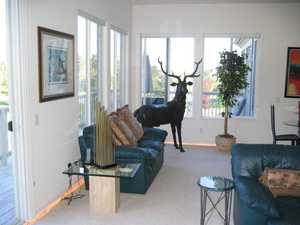 As you can see, we have quite a deer problem here in Reno. Fortunately for us, this big buck doesn't move around much. We found this treasure at one of the auctions I wrote about previously.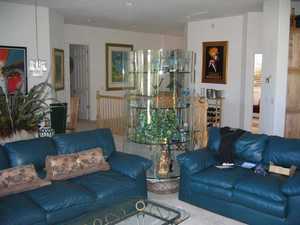 Here is the living room from the other direction. We bought the leather couches from the previous owner. They had the foresight not to put a wall between the living room and the dining area, so it is just one big open space.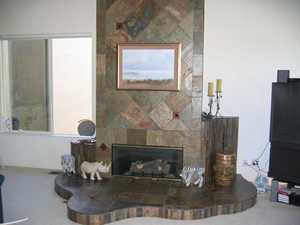 We did a bunch of remodelling before we moved in this April (2003) and our biggest contribution was the constuction of this fireplace.
Quote of the day:
Speak softly and own a big, mean Doberman.
Dave Miliman
Sitemap
Go up to Our Reno Home Views Go up to Where we have lived Go up to All about our Family Go up to Home Page of Nadine Loves Henry
Continue with Nadine's office and the Kitchen