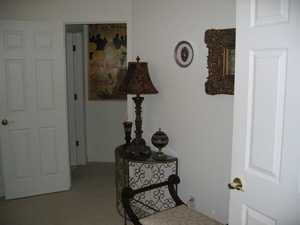 Both Nadine and I like to spend a lot of time on the computer, so we put three offices into this house. This is Nadine's office, which is upstairs in what used to be a formal dining room. Nadine likes antique ruby colored glass, and is starting a small collection here.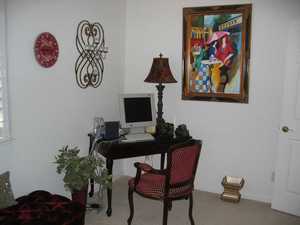 Here is her computer center. This is where she has wracked up over 350 positive feedbacks on ebay, and makes sure the American economy keeps on humming.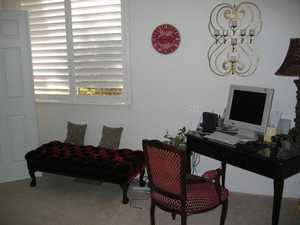 Being a geek, I have to comment on the computer system I installed in this house. We have cat6 ethernet almost everywhere, along with a linksys 5.6Mbps wireless network that covers the whole house. Nadine is connected to our main computer (which lives downstairs) via a 100MB ethernet link. Her computer is really just a thin client that runs X. It is totally silent, consuming only 40 watts. Because she is a relative computer novice, I have her running VNC so that I can take over her screen remotely and help her out when she needs it.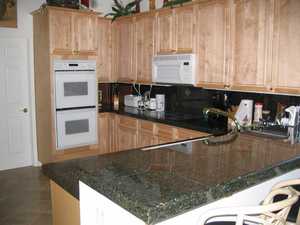 Another big remodelling job we did before we moved in is replace all of the white kitchen counter tile with granite. We also replaced the floor in the kitchen. Here is the result. Even though Nadine doesn't cook, (she Bar-B-Ques), (or burns), she doesn't mind hanging out in the kitchen.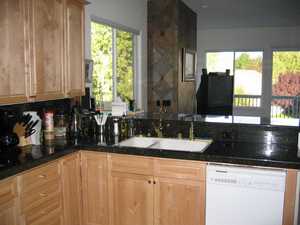 Here is what the chef, (if we had one) would see while in the kitchen working. The only reliable kitchen resident is the coffee fairy, who makes sure Nadine's coffee is ready for her before she wakes up each day.
Quote of the day:
My dog is worried about the economy because Alpo is up to $3.00 a can. That's almost $21.00 in dog money.
Joe Weinstein
Sitemap
Go up to Our Reno Home Views Go up to Where we have lived Go up to All about our Family Go up to Home Page of Nadine Loves Henry
Go back to The Living Room Area Continue with The Master Bedroom: Nadine's